Cyber insurance can help protect your business against a range of cyber threats and exposures, including cybercrime, data breaches and system interruption.
Explore our cyber insurance products to learn more
Private enterprise
Our award-winning cyber insurance policy for small and medium-sized businesses contains broad cover for technology-related risks. It is supported by our large, experienced team of incident responders and comes with free access to cybersecurity alerts through our app.
Key features
Market-leading incident response
Broad business interruption cover
Cover for cybercrime and data breaches
Free access to our mobile app
Cyber (admitted)
Comprehensive cyber cover supported by a suite of proactive cyber security services and the largest, most experienced team of incident responders.
Key features
Proactive cyber security protection
Award-winning cyber incident response
Cover for cybercrime, ransomware and data breaches
Large corporate
Built with global businesses in mind, this cyber insurance policy is designed to protect balance sheets against the impact of catastrophic system failures and major security breaches. Coverage includes affirmative management liability, failures in the technology supply chain and more.
Key features
Nil deductible for incident response
Senior officer liability for cyber events
Technology supply chain failure
Cover for operational IT risk
Cyber excess
Our cyber excess insurance policy provides extra peace of mind for businesses who want to top up the cover and limits of their primary cyber insurance policy. It includes full access to our cyber risk management services and extra protection for directors and officers, cybercrime and more.
Key features
Up to $10m of excess capacity
Auto reinstatement of the excess limit
Primary limit top up for cybercrime
Full access to risk management services
See how CFC's cyber insurance solutions help thousands of businesses across a variety of industries.
From retail to logistics companies, every sector has its own unique cyber risk profile.
Technical expertise and real-world claims handling experience can make the difference between suffering a catastrophic loss or getting back online quickly.
When you buy a cyber policy from CFC, you get access to twenty years of cyber claims experience, the largest in-house incident response team in the market, and our award-winning cyber incident response mobile app.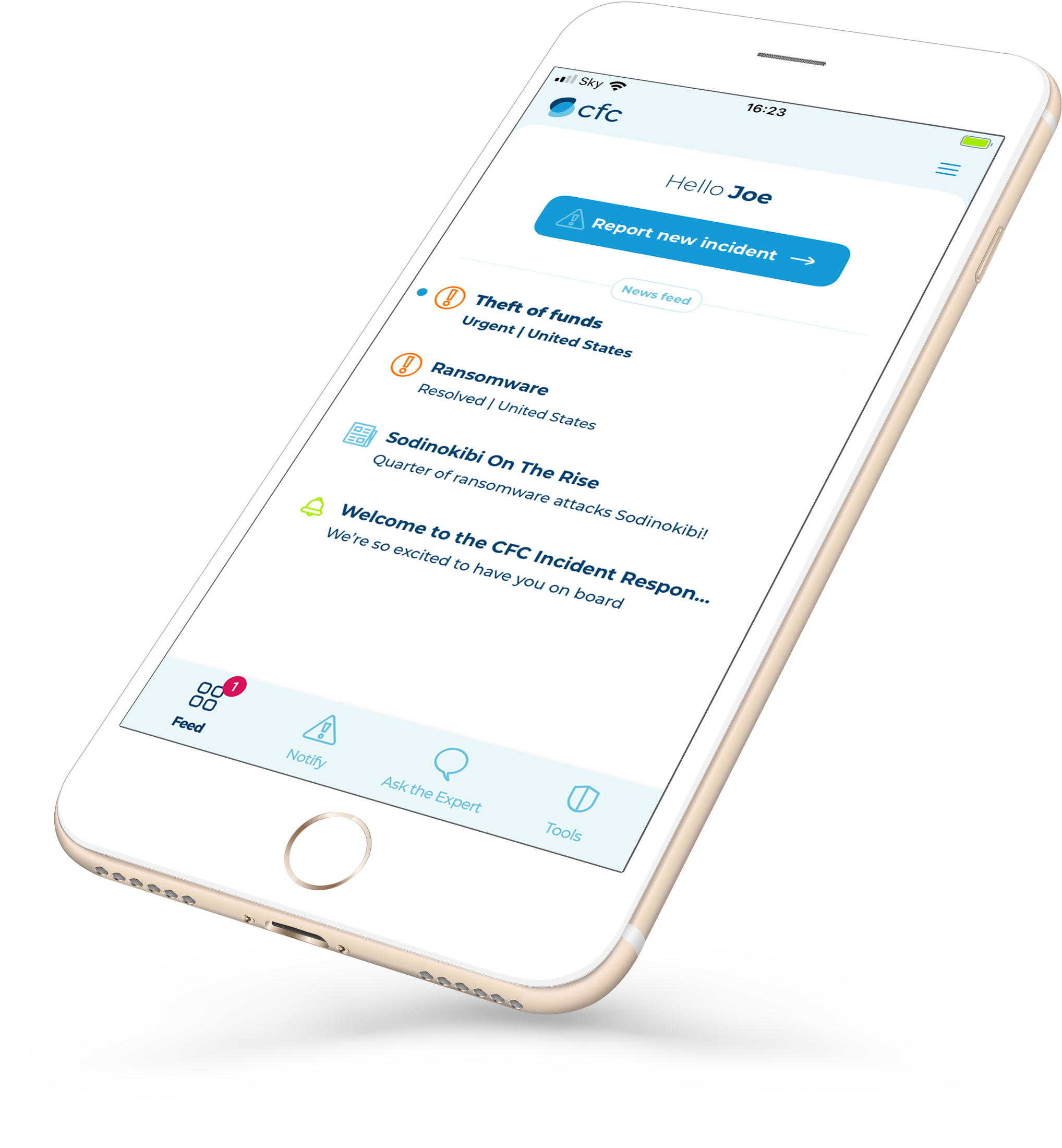 FAQs
Cyber insurance (also known as cyber liability insurance or cyber security insurance) is designed to protect businesses against the financial loss resulting from a range of cyber threats and exposures, including cybercrime, data breaches and system interruption.
Cyber insurance is important because as businesses increasingly use technology to operate, the digital assets they hold - like important business data, corporate information and client records - are becoming more valuable and more vulnerable.
What does cyber insurance cover?
Cyber insurance primarily protects businesses against business interruption losses caused by cyber events, cybercrime, and privacy breaches.
Business interruption losses are most often caused by ransomware and targeted extortion attacks. These attacks are not only frequent but can be incredibly expensive. In recent years, the sophistication of these attacks has made it more difficult to recover files, which can lead to extended system downtime, loss of profits, and reputational harm.
Types of cybercrime that are covered under a cyber insurance policy range from Distributed Denial of Service (DDoS) attacks to corporate identity theft. Funds transfer fraud, however, is the most common type of cybercrime our claims team sees. This scam involves fraudsters stealing login credentials, accessing company systems, and rerouting wire transfer payments into fraudulent accounts.
Privacy breaches are also addressed under cyber insurance policies. If sensitive data is lost or stolen, businesses will need to notify affected individuals and regulators depending on their jurisdiction, in some cases provide follow up services like credit monitoring. 
How much does cyber insurance cost?
In short, it depends. The price of cyber insurance varies according to business size and industry.
Certain industries are targeted more by cybercriminals due to the amount and type of data they hold, or simply because taking out their systems would render them inoperative. Those in the healthcare industry, for example, have a larger exposure due to the volume of records they hold. 
While it might vary depending on the business, cyber insurance has proven to be a very cost-effective way to transfer cyber risk. Sitting alongside good cybersecurity practices, cyber insurance can mean the difference between a quick recovery following a cyber event and a catastrophic or business-endangering loss.
Want to get a cyber insurance quote? If you're a business, contact your insurance broker. If you're a broker, reach out to our cyber underwriting team.
What types of businesses need cyber insurance?
Any business that uses technology in order to operate – whether they store data online, make or receive wire transfer payments, or use software in their day-to-day operations – has a need for cyber insurance. 
It's fair to say that these days, this includes almost every business in every industry. 
Cyber insurance has a long reputation as a privacy liability product for businesses that hold sensitive data – but privacy exposure isn't the only risk facing businesses today.
In fact, cybercriminals are increasingly targeting traditional industries that hold almost no sensitive data at all, whether through ransomware attacks that halt operations or business email compromise scams that result in wiring payments to fraudulent accounts.
How is a cyber insurance policy structured?
Our cyber insurance policy contains a range of first party coverages – for losses that the policyholder experiences themselves – as well as third party coverages – for losses that a third party experiences but which the policyholder might be responsible for.
With nearly all cyber insurance claims stemming from financial losses experienced by the business directly – such as ransomware and funds transfer fraud – three of the main sections of our policy are for first party coverages.
These include:
Incident response, which picks up the costs associated with responding to a cyber incident such as forensic investigations and legal advice
System damage and business interruption, which helps keep businesses up and running by covering the costs of data being restored and reimbursing loss of profits caused by the downtime
Cybercrime, which covers the financial losses associated with a range of digital crimes like social engineering, extortion,

 

cryptojacking and more.
Network security and privacy liability, our major third party insuring clause, covers things like the transmission of harmful malware to a third party's systems or failing to prevent an individual's data from being breached.
To find out more about the major sections of our cyber insurance policy, see our Anatomy of a Cyber Policy infographic or ask our team for more information.
What cyber risk management services do you offer?
CFC's cyber insurance policy is supported by a range of risk management services including:
Phishing-focused employee training
Cyber risk awareness videos
Cyber risk rating reports
Dark web monitoring
Cyber incident response planning tools. 
Each of these is designed to either prevent, detect or respond to cyber events. 
In addition, our award-winning mobile app provides policyholders with proactive threat intelligence on the most critical cybersecurity risks pertaining specifically to their business, all delivered directly to their phone.
On the app, users can also access additional risk management tools like deep scanning, get cybersecurity advice 24/7 through the 'Ask the Expert' function, and get immediate assistance from our specialist team in the event of a cyber incident through instant claims notification.