60,000+
Cyber policyholders
2,000
Claims handled in the last year
Cybercrime costs the world trillions of dollars each year and impacts businesses of all sizes, in particular smaller organizations. Many of these companies are unprepared for the impact a cyber attack can have on their business.
CFC protects businesses against cyber risk.
Leading the way
CFC has over two decades of experience building cyber insurance solutions and handling cyber claims, making us one of the most established and experienced providers in the market.
We started underwriting cyber policies in 1999, covering some of the very first internet-based companies, and now have a suite of comprehensive, purpose-built products designed with today's cyber risk in mind.
Learn more about our Cyber Products
The largest technical team in the market
At CFC, we understand that a good cyber insurance policy doesn't begin and end with words, but with actions. That's why we've invested heavily in the expansion of our in-house cyber incident response team with offices in London, Austin, and Brisbane.
On-call 24/7, our team of nearly 100 cybersecurity specialists provides a range of proactive security services as well as post-event remediation to get our customers back online fast.
Meet CFC Response
Prevention at your fingertips
Offered free of charge to customers, our bespoke suite of cutting-edge risk management services is delivered through our award-winning mobile app, Response.
Response allows users to activate critical tools including deep scanning and dark web monitoring, get free advice from our expert cybersecurity team, and quickly notify us of any cyber incidents for immediate technical support.
Crucially, the app also delivers proactive security alerts to customers based on information our team gathers through its continuous vulnerability monitoring of our entire customer base.
Find out more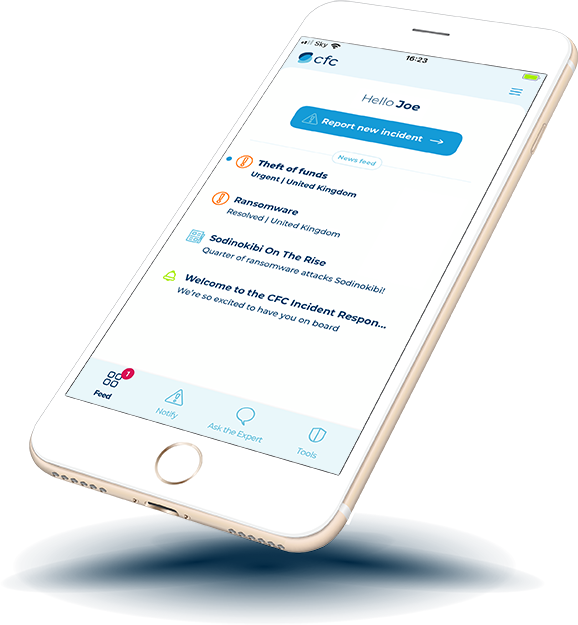 Making trading easier
Part of our mission is to make brokers' lives as easy as possible. CFC Connect is designed to do just that, allowing them to quote high volume small business quickly and easily.
Requiring just a website address to produce several quote options, brokers can edit limits and deductibles and bind policies within seconds, all with zero-touch from underwriters.
find out more
Industry recognition
We're proud of our work innovating great cyber insurance products, claims solutions, and technology. Here are some of the ways we've been recognized.