50 years of Pride
To celebrate 50 years of Pride, CFC did something extra special to mark the occasion. We created an artistic brief for a sculpture inspired by our interpretation of Pride as part of the Link: LGBTQ+ Insurance Network X #QueerFrontiers competition. Here's what our team came up with!
Concept
We see the last 50 years of Pride as a journey, and not an easy one! It's had a huge impact on the people and communities it touches, but it's still very fragile and often receives conflict, criticism and distress. Our maquette is to signify the fragility of pride's journey so far, and the support it needs going forward. We want to build on these incredibly important foundations and create something even stronger and more powerful for the future.
The sculpture rises out from fragility and negativity and grows into a strong and positive symbol that celebrates 50 years of pride.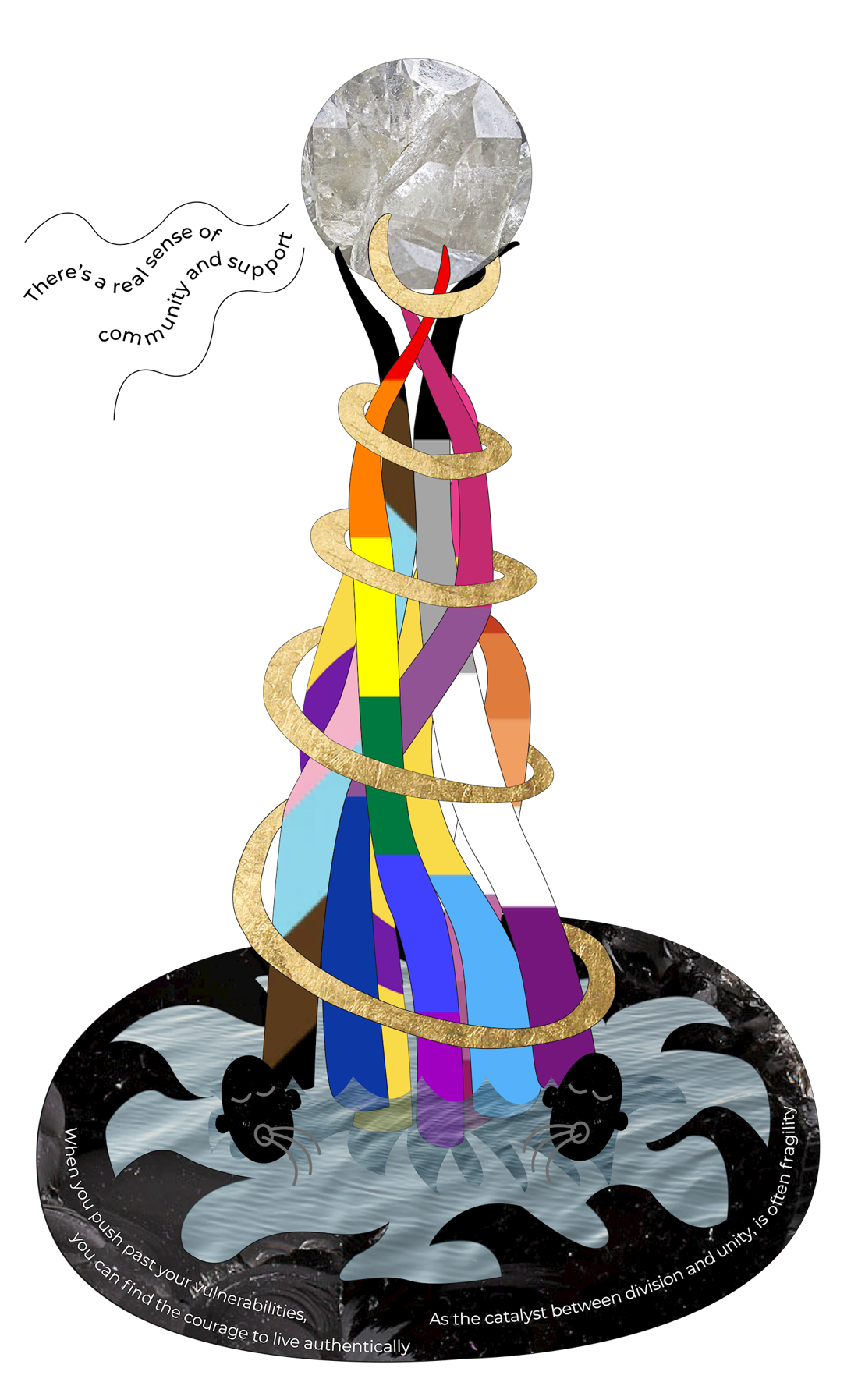 The sculpture
Inside the base
Material: Water, obsidian and lighting
Detail: Water flows freely inside the base which is underlit by lights in pride colours. The faces represent trans people, still struggling, and are inspired by gargoyles which were traditionally considered to protect what they guard from evil spirits or harm
Orb
Material: Crystal - refracts light and colours around it, so it will be illuminated by the arms beneath it
Detail: At the base of the orb is an audio system that play the stories of people's experiences and history of pride
Spiral
Material: Metal covered in gold leaf
Detail: Five loops of the gold spiral represent the 50 years of pride. Wrapping the community and people in security, by offering support, hope and a sense of unity.
Arms
Material: Recycled plastic, coloured as all of the pride flags
Detail: Rising up out of the oppression, supporting, strengthening and growing the community
A member of the team also wrote a poem to accompany the artwork:
Fragility is the catalyst between oppression and unity
We live in a world where people find it easy to hate. Where it is much easier throw stones at that which we don't understand, due fear or insecurity by delicate egos.
Now picture this hate as if it were a glass house. It may feel like a symbol of grandeur, authority even. But it is fragile.
There are many things that can break this curse that is hate in our reality / world. When we challenge hate and ignorance with unity, It is weak. When we find the courage to live authentically.
All one colour but the painting of perspective, paints it in to a different one.
Change the colour in which you paint the world.