2,500+
Events handled each year
100+
Attacks prevented monthly
The largest in-house cyber security and incident response team in the market
Our global team of cyber security engineers, incident responders and forensic specialists successfully prevents and remediates thousands of cyber events for our customers each year.
"It is extremely difficult keeping up with the latest threats and tools in the cybersecurity world today. Utilizing CFC Response to augment my IT team by focusing on cybersecurity has given me peace of mind."
"[The team] provides me peace of mind from the multiple threats that could cripple my business at any time of the day."
"I would like to express our sincere gratitude for expediting the processing of our cyber fraud insurance claim. You covered our unfortunate loss in less than a month, and all along doing things right with a methodical and courteous approach."
Proactive protection
From the moment you bind your policy, our cyber threat analysts work around the clock to protect your business against cyber attack.
Using insights from threat intelligence feeds, the dark web, network scanning and our own real-life claims data, we identify potential threats and alert vulnerable customers before the worst happens.
Download our brochure
Immediate response
Technical expertise and real-world experience can make the difference between suffering a catastrophic loss or getting back online quickly. Our incident responders are available 24/7 to triage incidents, contain threats, and repair networks.
24/7
Follow-the-sun support
CFC Response works hand-in-hand with our cyber claims team to minimize business downtime and financial loss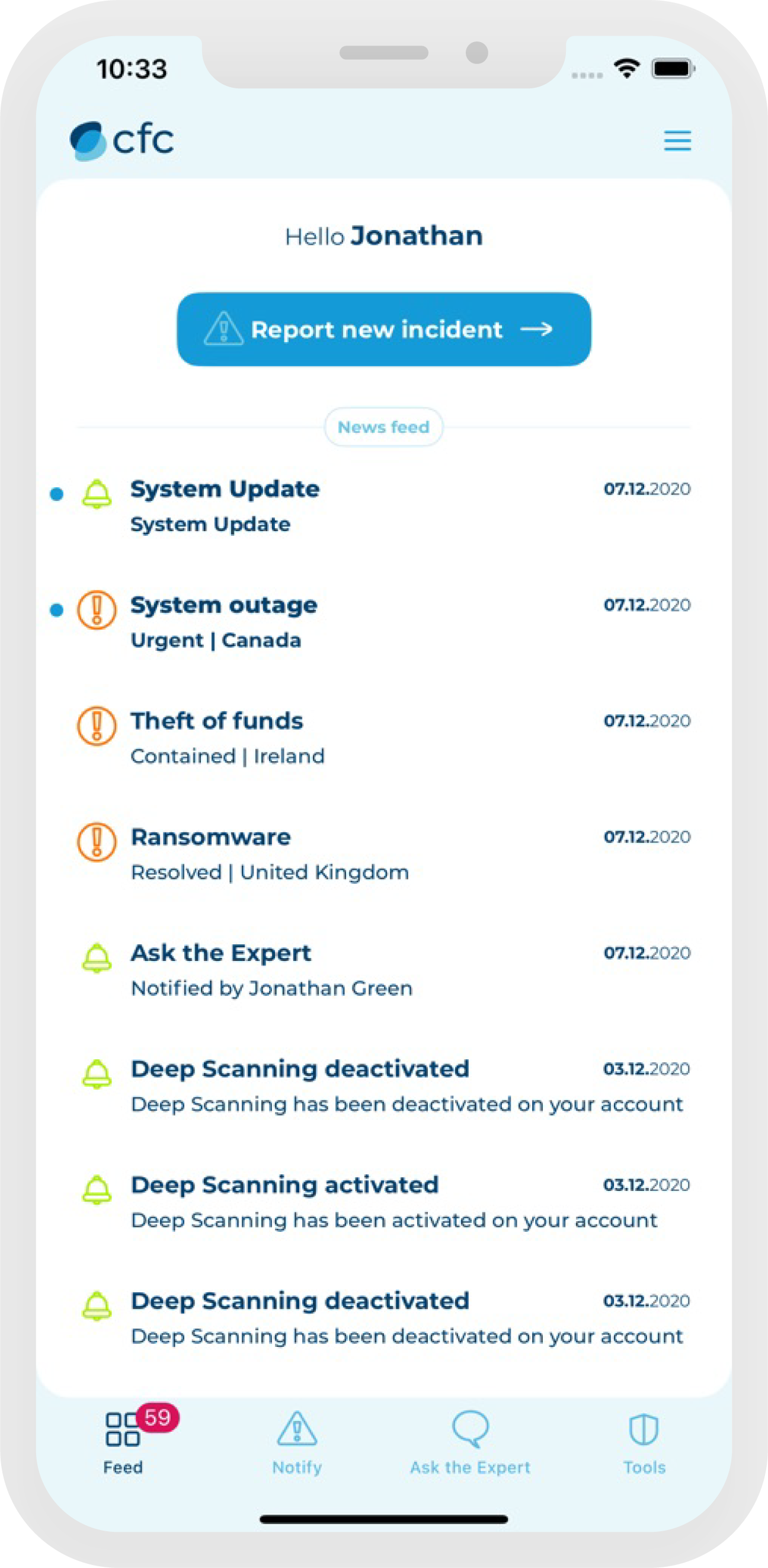 Real-time support
Our first-to-market mobile app for cyber delivers real-time threat alerts, free 24/7 access to cyber security experts and a variety of cutting-edge risk management tools. It's also the fastest way to report an incident or claim.
Learn more here or download below.
Our CFC Response team
Our expert cyber security team spans three continents, offering follow-the-sun support.
Roger Francis

Managing Director, CFC Response
Terry Oehring

CEO, CFC Response (US)
David Rudduck

Managing Director, CFC Response (AU)
Chris Loehr

Executive Vice President
Danny Aga

Vice President, DFIR
Brian Brown

Chief Information Security Officer